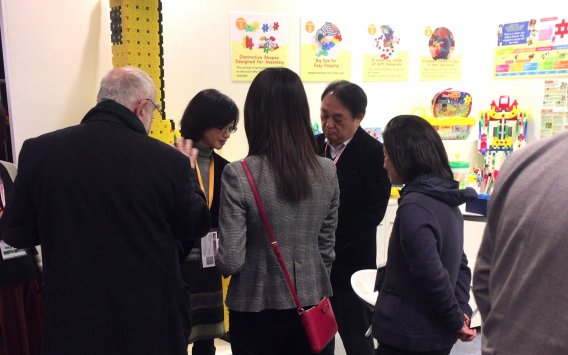 Gakken Sta:Ful exhibits at Spielwarenmesse® 2017, the toy fair in Nuremburg, Germany, for the second consecutive year.
Spielwarenmesse® 2017, the toy fair in Nuremburg, Germany,
Spielwarenmesse, an international trade fair held in Nuremburg and the world's largest toy fair, bustles with visitors each year. Opening on February 1, 2017 and running for six days, the fair welcomed around 70,000 visitors from 123 countries. Featuring Newblock as it did last year, Gakken Sta:Ful also exhibited flagship greeting cards, and series of science kits this year.
A Newblock giraffe over 2meters was displayed at the entrance of our booth. He did a great PR job showing Newblock's unique shapes and various ways of assembling.
Newblock is a longtime seller which has a past record of sales over 50 years in Japan.
Although initially geared toward kindergartens and nursery schools, it has been available for mass consumption since around 1965. New Block's outstanding quality has generated great interest overseas as well. At Spielwarenmesse 2017, an onsite expert with a knowledge of plastic materials approved of Newblock as being an extremely well-made product. The response to Gakken Sta:Ful's greeting cards was also highly favorable, with not only European companies but also American companies inquiring about them.

History of Newblock's Expansion Overseas
1960s   Gakken begins selling Newblock in Japan
2005   Gakken Group exhibits Newblock at Spielwarenmesse, an international toy fair in Nuremberg
2013    Newblock is launched in Hong Kong market
2015   Gakken (Hong Kong) Co., Ltd. is an exhibitor at Learning & Teaching Expo (LTE) 2015 in Hong Kong; Newblock hits stores in Taiwan and Australia
2016   Newblock is exhibited at Spielwarenmesse and put on Singapore market
2017   Newblock is again exhibited at Spielwarenmesse

Cards
1965   Gakken begins selling cards domestically as American Greetings Corporation's exclusive agent in Japan